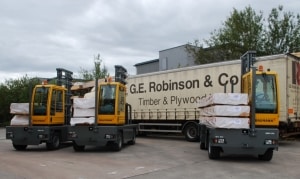 Timber and Sheet materials supplier GE Robinson & Co Ltd has taken delivery of seven brand new Baumann GX50 5-tonne side loaders.
The final two trucks from the seven-strong order went into service at Robinsons Salford premises in July 2013. The Baumann side loaders, replace the previous incumbent 12 year old side loaders.
Robinsons have organised their site operation at Salford to use side loaders, benefiting from the maximum utilisation of space by stacking timber to higher levels, whilst ensuring the trucks achieve full manoeuvrability around the site.
Commenting on the new Baumann trucks, Paul Kavanagh, operations director at Robinsons said: "Following a detailed evaluation exercise, we felt that the Baumann side loaders would give us the fuel saving, reliability and robust design for operation at our very busy 6 acre site here in Salford.
"As Baumann is a specialist company that only makes side loaders, we felt most comfortable with the Baumann product.
"The company quickly impressed us with its product design and manufacturing expertise and, at all times, they were extremely focused and keen to work closely with us to provide us with side loaders that fully met the requirements of our operations."
Robinsons estimate that each vehicle will be operating between 1000 and 1200 hours per annum, with a working life expected to be in the region of 12 years.
"Throughout the negotiations and the subsequent fleet integration, on-going contact with Baumann has been extremely good.
"We get excellent technical support locally through Baumann staff and ITS, who are both regular visitors to our site, assisting our drivers with familiarity programmes and best practice for the trucks," added Mr Kavanagh.
More Information About Side Loaders For Timber & Sheet Materials Handling
See The Range Of Baumann Side Loaders
Contact our sales support team