Welcome To The Art Of Working Sideways
Baumann is a business 50 years in the making. We are delighted to share with you the hard work and innovations that make our sideloaders the best in the world.
The Sideloader Concept
Sideloaders are perfect for handling long loads, such as timber, steel, pipes and concrete.
Safety is a huge factor, keeping loads secure and eliminating dangerous situations from arising, such as when forklift operators travel with forks raised. Other features include…
Efficient, intelligent and tough

From under four metres in length

Excellent over long distances
Baumann Online
Our online system is something we are very proud of and is regarded by many as the best in the industry.
Developed over many years, it contains everything our partners need to know to keep their equipment serviced and fully functioning. Our dealers can also order and track replacement parts, download manuals and carry out warranty procedures, all at the click a mouse.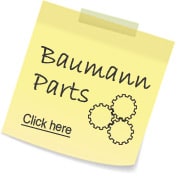 "these are the best… short on space these will blow your mind!"
"We have acquired different handling equipment and different handling methods over time, and we looked for a way to bring this together in the most appropriate way. Without doubt, Baumann sideloaders proved effective and reliable and give us the flexibility we need to work efficiently and safely. The equipment quality is there to see, and when you are working with steel, it needs to be up to the job."
"The Baumanns are more robust and operator-friendly and offer much better build quality. You can see that the operators are a lot more in tune with the machine. The door interlock is a good safety feature… the masts are better, the operator cabin is excellent…"
"Baumannn's customer focused attention to detail has ensured that we have got peace in mind and reassurance with this deal, which is essential when making such a long term capital investment."
"We undertook a thorough evaluation of all the different manufacturers… on balance, we found that Baumann were the best choice for us, as it was clear that they put real emphasis on the quality of manufacture and product reliability."
"Since we switched our buying policy to Baumann for the first time over four years ago, we have been extremely happy with the overall performance of their side loaders. Product reliability is excellent and the overall Baumann approach in addressing our business requirements is first class."
"We looked very closely at potential alternative manufacturers… specifically build quality and design… we were particularly impressed by the build quality of Baumann sideloaders."
"We felt that the Baumann sideloaders would give us the fuel saving, reliability and robust design for operation at our very busy 6 acre site… at all times, they were extremely focused and keen to fully meet our requirements."
"The Baumann HX40 is ideal for our business. It easily manoeuvres our raw materials, especially the awkward 2 tonne packs of 7.5metre steel lengths, from which we manufacture our stillages and it keeps our manufacturing processes fully supplied."
I've been driving the above truck for the last 3 weeks now and to be fair it has surprised me just how good of a truck it is I would definitely recommend electric but Baumann is the way to go. They're the strongest, best built, side loader I've driven to date, and I've been doing this for 23 years now
Baumann is a world-class manufacturer with a reputation for consistent innovation, and the highest level of design and productivity.
"Our business is based on long-term thinking, problem-solving, true partnerships and commitment. Nothing quite beats the feeling of knowing you've helped a customer do things better."
Trusted Partners
We work with many of the World's leading manufacturers, from steel makers to timber merchants, and many varied companies with unique handling requirements.















Contact Baumann
Contact us today to find out where your nearest official Baumann dealer is located. Please don't forget to tell us where in the world you are located and the best way we can get in contact.