Compact, lightweight, intelligent.
The compact AC powered electric ELX is predicted to change the European market for sideloaders. The goal was to produce a highly efficient and durable electric machine capable of efficiently working in small spaces.
Creating a smaller, lightweight chassis, involved designing a series of angled sections to provide stiffness and stability, without excess weight 2.5 tonnes lower than a conventional engine machine. A new steering axle was developed with extra weight added, providing a lower centre of gravity.
Efficient, intelligent and tough

Under four metres in length
The Range: Mid-Sized, Compact
The ELX was launched following two years of painstaking research, & features an intelligent battery system, redesigned chassis, new wiring schematic, bespoke steering axle & flow matching hydraulic system. This the most compact model ever produced, measuring less than four metres in length & 750mm in deck height.
WHAT MAKES THE ELX SPECIAL?
More compact and with increased battery performance by up to 30%, the ELX is a huge leap forward in electric truck design.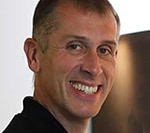 The ELX offers a fantastic solution for those looking for longer shift life, comfort and high levels of manoeuvrability.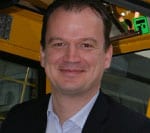 The performance is like a diesel, but without emissions and noise. Futhermore, the total cost of ownership of electric trucks are nowadays definitely lower than engine powered trucks.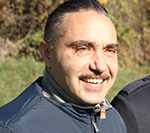 Because we looked at the fundamental structure of the machine, it is all the more satisfying a result. Improved weight distribution, highly efficient electrical systems and great performance. The ELX is a truck that we are rightly proud of.
Find Your Nearest Dealer
Contact us today to find out where your nearest official Baumann dealer is located. Please don't forget to tell us where in the world you are located and the best way we can get in contact.