The world's leading sideloader manufacturer, Baumann, is delighted to be supplying bespoke versions of its latest GX70 range for use by safety barrier installers on UK motorways.
At one time, eagle-eyed MHE aficionados were used to seeing sideloaders alongside motorway maintenance crews, thanks to the machine's unique ability to safely manage long loads over uneven ground and long distances.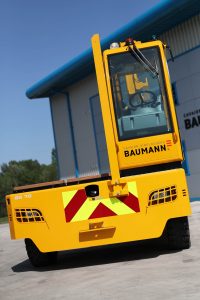 "We are especially pleased to be working with our distributors," says Baumann UK managing director, Mark Bann, "who helped us identify opportunities with leading barrier providers. A host of modifications, including front and rear camera systems, advanced joystick controls and high reflective decals make these GX trucks ideal for the job, and we know they offer the best levels of control, comfort and productivity on the market."
With changes in motorway technology, however, that sight has become less common, until now, as the combination of high specification equipment and specially designed attachments for barrier handling has enabled installers to again get the benefit from these unique machines.
These new Baumann models are amongst the UK's first 7 tonnes capacity trucks to include the new Variable Reach System (VRS) which builds on the company's award-winning Archimedes outreach method, adding further control and durability for demanding applications.
Baumann's first prototype of the earlier direct drive Archimedes screw and sliding blocks method of extending the fork carriage was developed in 2011 with the first UK deliveries in 2015. The worm gear system was the first major development in sideloader outreach design in over 40 years and was well received by customers for allowing highly accurate control and the maximum working speeds. Eliminating unnecessary stresses and power demands also meant overall truck productivity improved.
With VRS, the addition of a bespoke valve block, modified chassis and additional guide bar to increase inertia resistance has allowed Baumann to double the Archimedes spindle thread size and corresponding number of bearings. The result is a halving of the pressure required between the two, providing even greater accuracy and the ability to seal the spindle head to prevent contamination.
The new range also features changes to the chassis, Tier 4 Deutz TCD 3.6 diesel engines, automatic deck levelling, refined ergonomic cabins and new joystick controllers, offering what the company believes to be the highest levels of durability, productivity and control in the market.