Severfield is widely recognised for its iconic structures, engineering excellence and unparalleled customer service.
Thinking big is second nature to the UK's market-leading structural steel company, Severfield. For decades they have been shaping skylines and delivering the modern built environment.
The Shard at London Bridge, Birmingham New Street Station and the Francis Crick Institute are just some of the major projects completed in recent years.
Each of the above projects come with their own staggering set of statistics:
– Francis Crick Institute: 2,300 tonnes of structural steelwork for the 57,000sqm research centre adjacent to the Eurostar terminal at St Pancras. Four main blocks with a central atrium space are all covered by a large curved roof form, designed and fabricated by Severfield.
– Birmingham New Street Station:  3,300 tonnes of steel, including 41 plate girders, the heaviest of which weighed 26 tonnes.
– The Shard at London Bridge: 12,700 tonnes of structural steelwork, currently the tallest building in western Europe.
Severfield has vast experience of working within a range of market sectors, from power and energy to stadia and leisure.
Each project receives the specialist high-quality skills and knowledge that Severfield can provide. "We work on big projects and deal with big companies," says chief operating officer, Ian Cochrane.
"We work hard within our supply chain to ensure customers are getting the very best from us. We are proud of the long lasting and fruitful professional relationships we have built, based on proven results, integrity and a client-comes-first approach."
Moving large items of steelwork around the country and around the 55 acre site, requires a lot of power, but also precision and attention to detail. A fleet of new Baumann sideloaders were commissioned to give heavy-duty flexibility.
"In the past we've had problems with equipment not being up to the job," says logistics manager, Ian Pope. "When it came to our latest acquisition, we wanted something stronger and durable, particularly in terms of the wheels and hubs."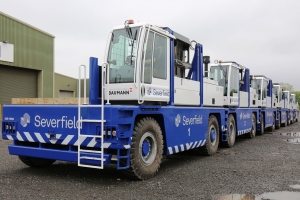 At Thirsk, the ground conditions vary as you might expect over such a wide area. In many areas, roadways and yards provide ideal working surfaces, but in the stockyards and wide expanses of the despatch area, concrete floors are impractical. "We need wide open spaces," adds Ian "some of our packs can be 10 tonnes and 20 metres long."
Baumann sideloaders are designed to meet the most difficult challenges. In addition to the comprehensive range of standard sideloader equipment, the Italian manufacturer has a proven ability to 'custom-build' against specific applications. For Severfield that meant six new machines; two 10 tonne and four at 15 tonne capacity, with extended loads for beds that are 1.4m, 1.6m or 2.4m.
Customers certainly tend to find that the Baumann team are available with innovative ideas built on years of experience, offering professional advice and support. A trip to the Baumann factory and several discussions with UK MD, Jason Reynolds, helped refine the specification requirements.
"These are large machines and require careful consideration," says Jason. "That said, as a manufacturer we are well experienced in the bigger equipment. Working over rough ground and long distances is not uncommon for heavy sideloader users, so the need for durability is very important."
Ian Pope commented, "You can see how solid the components are. When we visited the Baumann factory you could see the care and attention that went into the product as it all came together. The specification was right and the delivery was on time. It gives you great confidence in both the supplier and the product."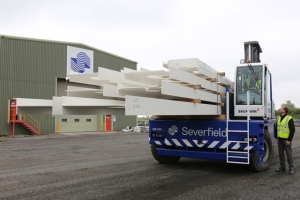 The extended beds and updated chassis also play a part in the way products are handled during production.  "Some of the equipment is needed to pick up packs in the despatch yard. They are used for order picking for de-stacking. There's a definite skill to it, and the driving and joystick controls have to be really responsive. No one likes change but in this instance, the lads are more than happy."
Maintenance is also a 'big thing' and servicing schedules are keenly monitored. The equipment is worked hard, "24/7 for at least five days a week," says Ian. Therefore, the decision to add an Optafleet system was made in order to monitor usage and check that all of the systems are working correctly.
"Every truck has got a job," concludes Ian. "We have changed some things but that just shows how responsive Baumann are. They're a good machine at the end of the day."