Ridgeons Timber and Builders Merchants first started trading with the sale and distribution of timber & sheet materials back in 1911. More than a century on as timber suppliers, it remains a fundamental part of the business.
Founded in 1911 by Cyril Ridgeon at his home in Cambridge, the company's mission has stayed the same since – to make it easier for their customers to do business. Something which they clearly achieved, going on to trade from over 40 timber and builders merchants branches in East Anglia.
Each branch has qualified, informed staff on hand to help with any building needs quickly and effectively. With a client base that includes tradespeople, construction workers, builders, and developers, amongst others, it has moved with the times to ensure it responds quickly and effectively.
Continual investment has kept Ridgeons at the very forefront of the industry. Handling timber effectively across fast-moving sites helps drive efficiencies and produces a higher quality service, says Forest Products operations manager, Eddie Hart:
"With a dedicated Forest Products team, working in partnership with selected suppliers, we are able to maintain a very high standard of quality and consistency."
It was that commitment to quality that attracted independent builders merchants, Huws Gray, to acquire Ridgeons in 2018.  The acquisition significantly increases Huws Gray's store base and broadens its national presence, making the company, it says, the UK's largest independent builders merchants.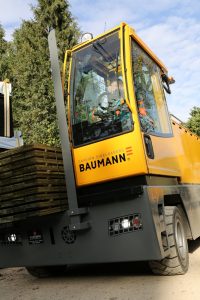 "The acquisition of Ridgeons represents a real milestone for our company as we become the largest independent builders merchants in the UK," said Terry Owen, CEO of Huws Gray. "We were struck not only by the strength of the company, but also by the considerable similarities between our cultures and management style."
Recognition of the excellent work to date then, for Eddie Hart and the team, but it's also business as usual, with deadlines to meet and loads to process:
"There's no time to rest on our laurels," says Eddie, "there's always a job to do! Stockholding and in-house timber processing takes place here at the purpose-built 12 acre site at Herringswell. It's had significant investment over the years and we continue to look at ways to improve. We rely on our equipment to keep us fully operational, and that's why we look for good support and the right kit for the job."
That kit now includes two new Baumann GX50 sideloaders, complete with the award winning Archimedes outreach system, ensuring fine control for the operator. Hydraulic cylinders traditionally drive a sideloader outreach system (the method by which the forks reach out to the load and return it to the load bed) by applying pressure to opposing rollers that slide along their respective channels, in a pantograph-style mechanical linkage.
The new Baumann GX Series utilises the direct drive Archimedes screw and sliding blocks, to extend the fork carriage, whilst preventing horizontal movements and eliminating unnecessary stresses. The system is low in maintenance and simple in design, with a high level of engineering and durability to ensure greater safety, smoother control and perfectly synchronised outreach for highly accurate and efficient load control.
The whole outreach system works in unison, which means ideal results each time, and maximum working speeds. Baumann UK general manager, Mark Bann says the GX is a good fit for the site. Said Mark:
"The operation here is great, with very well set out cantilever racking and a big site with long runs, which the GX50 is superb at. The new outreach system is revolutionary, it ensures a lot smoother and fine control for the operator. They work very long hours, between 40 and 60 a week, so they need the control and power and the accuracy of the outreach system."
Despite having only been on site for a relatively short time, the upgrade to Baumann has already been noticed, comments Mark:
"Feedback from the operators is very good, they also see the build quality and benefit of the self-levelling deck, where loads are secure on slopes and inclines. We are supporting Eastern, one of the big dealers in the UK for Baumann products. They have worked with Ridgeons for many years and they know the team here well. There's also our latest electric ELX model at the Galaxy distribution centre near Lakenheath. The ELX is a high performing, high specification machine that has the added benefit of being able to work indoors and out, with no emissions."
Eastern's managing director, Paul Brierley, said: "We are very proud of our work with Ridgeons and of our partnerships with Baumann. The GX trucks are excellent and not many would have thought a 5 tonnes capacity electric sideloader would work a 10 hour shift. It shows what a brilliant truck the new ELX is. Only the longest dock applications need to be diesel now."
The future looks very bright for a company steeped in history but with an eye on future development, something perhaps shared with Baumann and its iconic equipment. "We are very happy with the results so far," concludes Eddie. "Both in terms of the service and the product, we feel we have the right partner and the kind of robust, durable equipment that will help the business move forward, whatever the future brings."