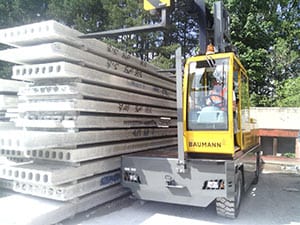 When precast concrete manufacturer Milbank decided it was time to upgrade its side loader fleet, the Colchester-based company decided to switch to the Baumann marque for the first time. Following the success of the first two new Baumann GS60 side loaders that have been operating in the company's material handling fleet for nearly 18 months, a further third new Baumann side loader has recently been ordered and is expected to join the Milbank fleet during December.
Milbank produces one of the widest ranges of precast concrete products and the Baumann side loaders have been specially designed to work in their extremely challenging operating conditions where there is a high dust content. The company anticipates that they will keep the Baumann side loaders for a five year working life and, at the rate they are currently performing, Milbank feels that they will be able to keep them even longer, without exhaustive repair bills.
Explaining the change in its buying policy, Andy Mayne, managing director at Milbank said, "We have been using various makes of side loader since 1991. Generally, after a few years, they show signs of wear and the repairs bills start creeping upwards. At the end of a typical 5 year term, as they are worked so heavily day in and day out, they are usually very tired. We therefore decided to look very closely at potential alternative manufacturers and specifically at their build quality and design of certain key connections, in order to eradicate repetitive repairs that tend to be common amongst side loaders."
"Following detailed discussions with Baumann during the year, we were particularly impressed by the build quality of their side loaders and the procedures of quality demonstrated in their factory and came to the decision to switch our purchasing policy to the Italian manufacturer for the first time," said Andy Mayne.
The Baumann GS60 side loaders have 8 tonne masts and are fitted with a telescopic spreader attachment with two additional forks, which can be retracted if not required. They are being used to transport a range of pre-stressed concrete floor products at the main Milbank site in Colchester, including hollowcore concrete planks and beams that can vary in length from 1m to 10m and can be up to a maximum of 5 tonnes in weight.
According to Andy Mayne, "These are specialist well-built side loaders that will be operating at least 2000 hours per annum and already our drivers have been impressed by the new equipment, which are meeting the company's requirements for on-site performance and reliability."
With the third new Baumann side loader due for delivery imminently, Baumann's Andrew Brown commented, "Within the concrete industry, our side loaders have developed an excellent pedigree over many years. The decision by Milbank to further invest in Baumann as its side loader supply partner for this major investment programme is testament to the proven reputation and performance of the Baumann range. We are looking forward to working closely with the Milbank team in the long term to ensure that they maximise the performance of these new vehicles."