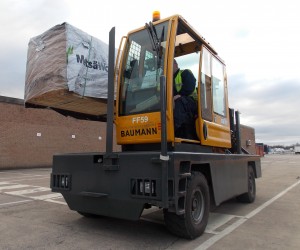 Over the years, our clients in the Timber industry have come to rely on the exceptional reliability and performance values of Baumann Sideloaders in their vehicles, and none more so than Metsä Wood UK.
Metsä Wood UK has been a long term Baumann customer, finding that Sideloaders fit their company needs better than other vehicles due to the nature of their raw materials. Transporting and handling 6 metre Timber loads requires stability and precision of  level that only Baumann can provide.
"Four years ago, we undertook a comprehensive review and came to the opinion that it was the Baumann product that best suited our business needs," says Mike Gerrard, Regional Operations Manager at Metsä UK. "We really do work our trucks extremely hard, probably much harder than most companies within our industry. Generally the diesel and LPG powered trucks are operating for over 3000 hours per annum, working on a three shifts per day system, almost 24/7."
Metsä Wood UK now employ 23 GX 5 tonne diesel powered trucks and 3 HX 4 tonne LPG powered trucks for daily use in their four UK sites in Boston, King's Lynn, Grangemouth and Widnes.
"The overall performance of our sideloader within the intensive daily business operation at Metsä Wood UK is testament to the manufacturing and build quality of our trucks. Our business ethic is to fully support the customer throughout their working life of the product and we are pleased that Metsä Wood has benefited from its work with us," said Baumann UK's Jason Reynolds.
Mike Gerrard explains their decision to buy with Baumann: "Their trucks are manufactured to an extremely high standard and their business approach and willingness to accommodate changes to the basic specification to suit our requirements was crucial. Since we switched our buying policy to Baumann for the first time four years ago, we have been extremely happy with the overall performance of their side loaders. Product reliability is excellent and the overall Baumann approach in addressing our business requirements is first class."
Metsä Wood UK is a vital contributor to the Metsä Group, one of the largest Forest Products companies in Europe. A co-operative of more than 125,000 private forestland owners based in Finland, the Metsä Group and Metsä Wood UK supply a wide range of sectors with Timber materials, including retail, construction and distribution businesses.
"Four years later we still believe we made the correct choice for our business by employing Baumann sideloaders," concludes Metsä Wood's Mike Gerrard.