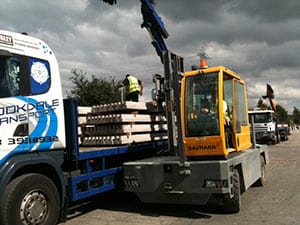 5 new Baumann side loaders purchased in 2013
When the Longley Concrete Group decided to upgrade its fleet of side loaders, the Dewsbury-based company chose Italian manufacturer Baumann as its exclusive supplier for the first time. During 2013, the company has already taken delivery of five brand new Baumann side loaders that are now currently working at the company's head office site in West Yorkshire.
Longley Concrete has purchased four Baumann GX 50 5 tonne side loaders for general duties, moving concrete floor beams within the company's logistics operation, pulling out stock and loading distribution vehicles over an intensive six day a week programme. A single Baumann GX60 6 tonne model has been fitted with an airlift and is used for the transportation of the specialist heavier products that the company manufactures.
Commenting on the decision to switch its side loader policy to the Baumann marque for the first time, Roger Longley from Longley's said, "We undertook a thorough evaluation of all the different manufacturers currently supplying the UK market and, on balance, we found that Baumann were the best choice for us, as it was clear that they put real emphasis on the quality of manufacture and product reliability."
All five vehicles have been supplied to Longley Concrete by Baumann dealer Industrial Truck Services in Manchester, who are also contracted to provide the service support for these Longley side loaders over their projected seven year working life.
"So far, we are extremely pleased with the performance of the new Baumann side loaders. When you switch manufacturers, there tends to be some driver reluctance, however, our drivers have been quick to adapt to the new Baumann units and the fact that Baumann offered full driver training programmes for us was an impressive added bonus, as this is very rare from any manufacturer," commented Roger Longley.
Baumann is the world's largest manufacturer of diesel, LPG and electric side loaders, ranging from 3tonne to 50tonne capacity, and as Baumann's Andrew Burton explains, "Alongside timber and steel, the concrete industry is a major user of Baumann side loaders. During our discussions with Longleys, we were able to demonstrate the high quality of manufacturing at our factory in Cavaion, Italy, and at all stages during the purchase programme, we worked closely with Longleys to ensure that the integration of the new Baumann side loaders into their fleet went as smoothly as possible."