Sideloader manufacturer, Baumann, has introduced the first of its new high performance electric model, the ELX50 to the UK. The models are being trialled at a major energy business.
Unveiled this year at LogiMAT, the nimble ELX is now in full production, and is the most compact of its kind ever produced, measuring less than four metres in length and 750mm in deck height.
Designed and built from the ground up, and following two years of painstaking research and development, the new electric features a completely new chassis, battery and power train configuration. The low deck height allows customers to utilise racking under 800mm at the second row height, maximising storage capacities inside and out.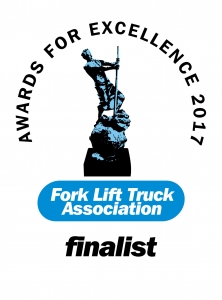 The ELX has also earned Baumann its second FLTA Award nomination in a row, following last year's Innovation win for the remarkable Archimedes outreach system.
UK managing director, Jason Reynolds believes the ELX50 could have a profound effect on the sideloader market. Said Jason:
"Battery and charger technology has really come of age. That said, our mission to produce a lighter, shorter, and more energy efficient electric model, would only make sense if it were without sacrificing the quality and durability that we have become famous for. The development was difficult, and raised many technical challenges that our team worked incredibly hard to overcome. The result is a model we are very proud of."
The reduced overall length and improved turning circle have been achieved without sacrificing the mast or well width, clearance and low bed height, whilst the combination of 120 volt power supply and 2.5 tonnes weight reduction is expected to increase battery performance by up to 30%. The operator cabin was also designed from scratch at Baumann's Cavaion HQ, maintaining the company's reputation for comfort and uncluttered operability, all within a reduced footprint.
Aside from likely persuading diesel users to make the leap to electric, it will perhaps represent Baumann's greatest opportunity for winning back former sideloader users that have switched to multi-directional machines, such as Combilift.
"The main benefit to multi-directional machines lies in the smaller spaces in which they can operate," says Klaus Pirpamer, head of Baumann Srl. "If you match that benefit, you'll start to see our other features such as travel speed and distance, stability and comfort becoming more important to the user."
The bespoke battery more than doubled the work cycle expectations during field trials on the continent, but that's not the only electric upside. "Cost saving, of course, is a big factor, but so too is noise. In Germany, Austria, Switzerland, long-established companies which have seen towns grow up around them, are under pressure to cut noise pollution by neighbours and legislators," adds Klaus.
A robust chassis is a crucial part of the sideloader physiology, so developing the new framework was essential to the overall design.
"We sent people to the chassis manufacturer for over six months before adding them to our suppliers," says Klaus. "Simple requests, such as changes in fork length, have huge repercussions for the chassis, axle and deck. Our new outreach system also resulted in changes to the weight distribution, so the integrity is crucial."
Baumann credit a new technical production troubleshooter with helping to bring new developments to the production line, whilst technical director, Riccardo Bove, has spent years working on refining and revolutionising everything from electronic systems to hydraulics and ergonomics, all aimed at bringing the ELX to life.
"The war against weight was won," says Riccardo. "We achieved the results by looking at every component, every system and every material. The total weight saved was three tonnes, a huge amount for a small machine, and so much that it allowed us to add weight back in to improve weight distribution and operability."
By reducing the size and weight of the machine, less power is needed to achieve high levels of performance, extending running time between charges. The reduction also provides further scope for battery integration, in this case a specially designed intelligent system developed in conjunction with Midac, which can be paired with a charger system to re-energise in mid-shift without damaging the cells. There's also a battery change option thanks to Baumann designing their own battery box.
"The size, battery integration and cabin were all big challenges," adds Riccardo, but the overall results add up to a truck that is much more than the sum of its parts. In our intensive work cycle trials, we've seen improvements in battery life of about 25 percent, but that it likely to increase even further in the field."
"It is sometimes difficult to convince customers of the benefit of a smaller size truck," concludes Jason Reynolds, "but in this case there are so many advantages that we believe it will set a new standard. We are seeing the market move towards electric power and this gives exactly the performance capabilities that customers need. Our prediction is that the demand for five tonnes diesel models will all but disappear. The ELX50 will go a long way to shifting the market and is likely to double our electric sales within the next three or four years."
Baumann is a world-class manufacturer of sideloaders from three to 50 tonnes capacity with a reputation for consistent innovation, and the highest level of design and productivity. Based in Cavaion in Italy, the family-owned company has led the sector for over 40 years, and now sells its products worldwide through 106 dealers in 76 countries.