GE Robinsons can certainly display longevity – founded in 1914 the company's present Salford site has been in operation since 1918. Of course much has changed but in essence GE Robinson remains a busy timber importer who supplies customers throughout northern England.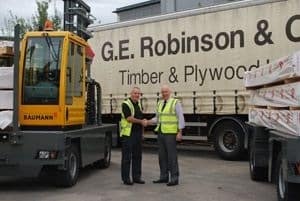 Recently a decision had to be taken regarding the ageing side loader fleet – the company operates 17 side loaders in total therefore this decision represented a major investment. The existing fleet had been supplied and maintained by Industrial Truck Services Ltd for the last 10 years. Ged Conaghan (Managing Director of ITS) "The decision to choose Baumann side loaders was considered carefully by both ITS and Robinsons, as even though Robinsons were making the long term investment, the same is true for ITS as we will be supporting the equipment".
Whilst it is difficult to compete with Robinsons' near 100 year history, Baumann can offer a still impressive 40 years and in common with Robinsons, their production is still on the original site. Baumann has recently made changes to its distribution in the UK, working with a small network of dealers who are supported by UK based technical and sales support.
Paul Kavanagh, Operations Director for Robinsons, said "We considered many manufacturers during our evaluation period; but felt most comfortable with the Baumann product – it has a long history and a very focused team behind it."
Paul initially ordered three units but has subsequently placed an order for a further four units. "Of course it will be interesting to evaluate the units after five years but based on considerable research, testing and evaluation I feel confident that Baumann is the way to go – there must be a reason why they are the world's largest manufacturer of side loaders."