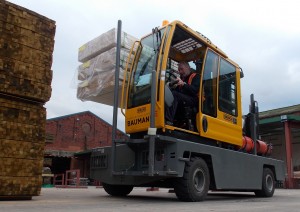 Metsa Wood UK, a prominent leading supplier in the Timber industry, first welcomed Baumann LPG Sideloaders into their workyard in 2012 and a year and a half later their reliability is proving them to be a fantastic choice. Today, 3 of the 8 Baumann Sideloaders operating at their Widnes site are LPG powered vehicles.
18 months ago, Metsa Wood realised their customers' demands were changing and decided to meet these requests with an operating programme specifically designed to meet their customers' new needs. 'We are now seeing more frequent deliveries to our customers,' comments Mike Gerrard, Regional Operations Manager of Metsa Wood UK. 'They want smaller quantity deliveries but on a more frequent basis, so we have had to adjust our stocking and delivery options here at Widnes to reflect these changes'.
Metsa Wood UK has also benefited from Baumann's outstanding attention to detail and flexibility when they arranged to work together closely at the outset, creating a design that suited the needs of Metsa Wood perfectly. 'With increased stock levels of finished product stored internally, we required side loaders that were environmentally friendlier, cleaner and more fuel efficient in operation, especially when working over longer shifts,' continues Mike Gerrard.
Damage to wood products can occur at any stage of the supply and shipping processes and one major cause of damage in storage is by heavy levels of dust. Since employing Baumann LPG trucks, Metsa Wood UK have recorded a significant reduction in dust levels when compared to previous experiences with solely diesel powered services. To combat any potential hazards in the transporting phase, the sideloaders have also been fitted with 5.7m masts to accommodate the low lying doorframes at their premises and intelligent alarm systems that sound when an accident is about the happen. what
The trucks have also had larger and more spacious cabs fitted than normally found on HX 4 tonne vehicles and the LED headlights have also been given a upgrade. More powerful headlights are now a standard fitting for Baumann Sideloaders to improve faster performance in unlit storage areas and now have a protective covering to combat any accidental damage.
'These Baumann LPG trucks give us major environmental quality benefits, whilst also achieving significant long term cost savings over their planned working life. At the same time, we have found that their overall working performance is extremely good and certainly a match for the diesel powered truck,' concludes Mr Gerrard.
Metsa Wood UK's collection of Baumann Sideloaders are employed for more than 3000 hours a year on a three shift rota system.