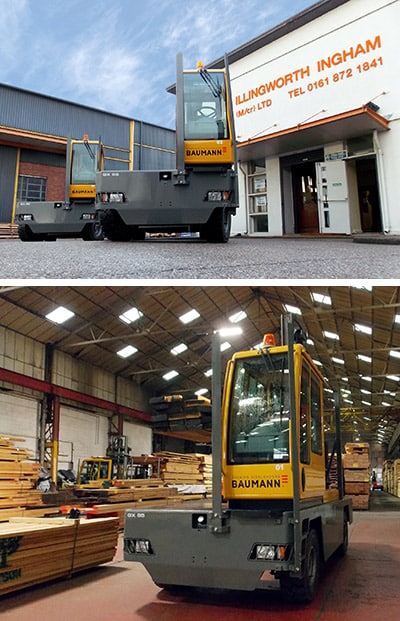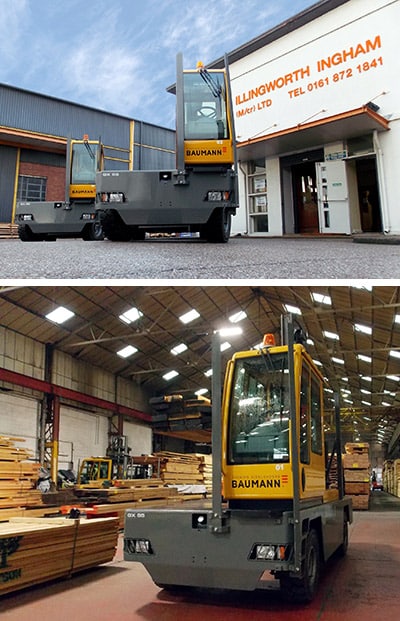 Northwest timber merchant and importer leader machinist Illingworth Ingham M/cr Ltd has recently completed a major investment in new materials handling equipment, with the recent addition of two new Baumann GX55 sideloaders that are now working at its sawmill in Trafford Park, Manchester.
The two new Baumann GX55 side loaders join a 13 strong sideloader fleet that operates across 6 depots in the North West including branches in Manchester, Macclesfield, Hyde, Stretford and Stockport.
Supplied through local Baumann dealer Industrial Truck Supplies (ITS), these are the first Baumann sideloaders to join the materials handling fleet at Illingworth Ingham M/cr Ltd and follow on from an intensive product evaluation program undertaken by the company when they were looking to replace two ageing models within its fleet.
During the purchasing programme, Baumann supplied Illingworth Ingham M/cr Ltd with a demonstrator GX55 model for trialling and according to Martin Taylor, Manager at Illingworth Ingham M/cr Ltd, "The demonstration programme clearly showed the overall benefits of the Baumann product in terms of operating features and manufacturing quality. We were suitably impressed with Baumann and decided to acquire two new GX55's as part of our fleet upgrade programme."
The Baumann GX55 side loaders at Illingworth Ingham M/cr Ltd are part of a range of UK specification side loaders manufactured by Baumann at its factory in Cavaion, Italy. The GX55 has a 5.5 tonne load capacity and, after consultation with Illingworth Ingham M/cr Ltd, both trucks were fitted with hydraulic leavers, instead of the traditional electric joysticks, as well as extra bars to protect the trucks from accidental damage on site.
Working on a normal five day a week programme within the sawmill, the two new Baumann side loaders will have an estimated working life of between 10 and 12 years at Illingworth Ingham M/cr Ltd.
"So far we are extremely pleased with the overall performance of the new Baumann side loaders. They have completed the first 100 hour service and everything is running smoothly, as we expected when you look at the build quality of the Baumann product," commented Martin Taylor.
The Baumann GX55 is a UK specification sideloader that features a shorter chassis, with the overall length reduced by 200 mm in comparison with Baumann's European models. It also features a different seat arrangement, a hydraulic pantograph and increased lifting capacity. The truck has a capacity of 5.5 tonne all the way up to the maximum 4.5 m lift.