New Models Launched At LogiMAT
Baumann has launched a new GX Series of five to eight tonnes capacity award-winning diesel sideloaders at LogiMAT 2019, the International Trade Fair for Intralogistics Solutions and Process Management in Stuttgart.
The new models are the first to include the Variable Reach System (VRS) which builds on the company's award-winning Archimedes outreach method, adding further control and durability for demanding sideloader applications.
The new range also features changes to the chassis, Tier 4 Deutz TCD 3.6 diesel engines (74.4kW at 2,000rpm with Diesel Oxidation Catalyst), refined ergonomic cabins and new joystick controllers, offering what the company believes to be the highest levels of durability, productivity and control in the market.
Baumann's first prototype of the direct drive Archimedes screw and sliding blocks method of extending the fork carriage was developed in 2011. The worm gear system was the first major development in sideloader outreach design in over 40 years and was well received by customers for allowing highly accurate control and the maximum working speeds. Eliminating unnecessary stresses and power demands also meant overall truck productivity improved.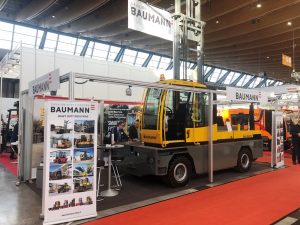 With VRS, the addition of a bespoke valve block, modified chassis and additional guide bar to increase inertia resistance has allowed Baumann to double the Archimedes spindle thread size and corresponding number of bearings. The result is a halving of the pressure required between the two, providing even greater accuracy and the ability to seal the spindle head to prevent contamination.