Baumann, had launched a new high performance electric model, the ELX50, at LogiMAT in Stuttgart.
he model is the most compact of its kind ever produced, measuring less than four metres in length and 750mm in deck height. Managing director, Klaus Pirpamer, is clearly delighted with the results and expects the ELX50 to have a profound effect on future production. Said Klaus:
"We had a very clear brief. To produce a lighter, shorter, and more energy efficient electric model, without sacrificing the quality and durability that we have become famous for. The development was difficult, and raised many technical challenges that our team worked incredibly hard to overcome. The result is a model we are very proud of."
The reduced overall length and improved turning circle have been achieved without sacrificing the mast or well width, clearance and low bed height, whilst the combination of 120 volt power supply and 2.5 tonnes weight reduction is expected to increase battery performance by up to 30%.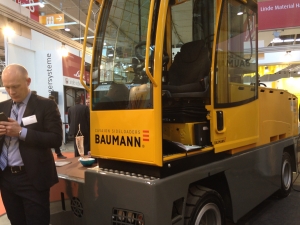 The ELX50 was designed and built from the ground up, following two years of painstaking research and development, and features a completely new chassis, battery and power train configuration. The low deck height allows customers to utilise racking under 800mm at the second row height, maximising storage capacities inside and out.
The operator cabin was also designed from scratch at Baumann's Cavaion HQ, maintaining the company's reputation for comfort and uncluttered operability, all within a reduced footprint.
"The war against weight was won," says Technical Director, Riccardo Bove. "We achieved the results by looking at every component, every system and every material. The total weight saved was three tonnes, a huge amount for a small machine, and so much that it allowed us to add weight back in to improve weight distribution and operability."