Severfield Makes Light Work Of Heavy Lifting.
Thinking big is second nature to the UK's market-leading structural steel company, Severfield. For decades they have been shaping skylines and delivering the modern built environment.
Moving large items of steelwork around the country and around the 55 acre site, requires a lot of power, but also precision and attention to detail. A fleet of new Baumann sideloaders were commissioned to give heavy-duty flexibility.
"In the past we've had problems with equipment not being up to the job," says logistics manager, Ian Pope. "When it came to our latest acquisition, we wanted something stronger and durable, particularly in terms of the wheels and hubs."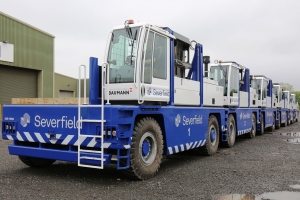 At Thirsk, the ground conditions vary as you might expect over such a wide area. In many areas, roadways and yards provide ideal working surfaces, but in the stockyards and wide expanses of the despatch area, concrete floors are impractical. "We need wide open spaces," adds Ian "some of our packs can be 10 tonnes and 20 metres long."
Baumann sideloaders are designed to meet the most difficult challenges. In addition to the comprehensive range of standard sideloader equipment, the Italian manufacturer has a proven ability to 'custom-build' against specific applications. For Severfield that meant six new machines; two 10 tonne and four at 15 tonne capacity, with extended loads for beds that are 1.4m, 1.6m or 2.4m.