With over 40 years of experience in development, design and production, Baumann today is the world's largest producer of diesel, LPG and electric sideloaders. With a range that covers capacities from 3 to 50 ton we offer a variety of sideloading trucks to handle most long and bulky goods.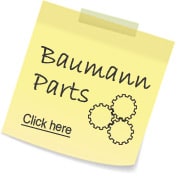 We are not part of a huge global corporation, and yet we sell sideloader trucks to over 50 countries throughout the world. Find out more about the company behind Baumann Cavaion Sideloaders, established in 1969.
UK Sideloader Sales, Parts & Service
Do you require parts for your Baumann side loader?
Click to get immediate support for your sideloader.