[title size="1″ content_align="left" style_type="default" sep_color="" margin_top="" margin_bottom="" class="" id=""]Baumann GS 50 -75[/title]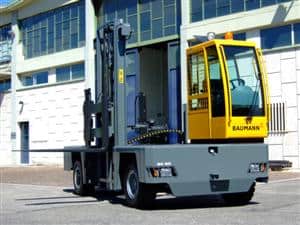 The professional sideloader
5 – 7.5 tonne load capacity
Robust and reliable
Strength and stability are benchmark characteristics of this range of sideloaders that also feature a new comfort cabin and hydraulic load-sensing-system.
The GS machine allows a number of engine variations. It features 'ultimate access' for  maintenance with its engine mounted above-deck.
Equipped with high-quality Rexroth transmission units and all drive components, which are perfectly matched for excellent performance and reliability.
Product Video
GS 60/14/72 TR 20″-TIMBER-HOLZ
Product Specifications
Engine:
63.5 – 74.5 kW Perkins engine model
Transmission:
Rexroth hydrostatic
Platform height:
1050 mm
Standard lift height:
4000 mm
Standard platform widths:
1200 and 1400 mm
Baumann Advantage:
Baumann load stabilising tilt system,
high residual capacities,
proven Baumann mast,
new Comfort cabin and hydraulic load-sensing-system