Baumann GX 50 – 80L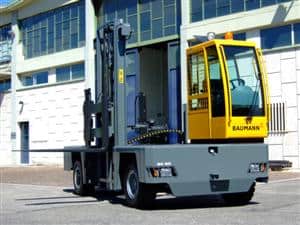 The professional sideloader
5 – 8 tonne load capacity
Robust and reliable
Strength and stability are benchmark characteristics of this range of sideloaders that also feature a new comfort cabin and hydraulic load-sensing-system.
The GX truck features over-dimensioned components and under-deck traction units for optimum weight distribution and rearward visibility.
equipped with high-quality Rexroth transmission units and all drive components, which are perfectly matched for excellent performance and reliability.
Product Videos
GX 60/16/45 ST – STEEL
GX 60.50/14-12/50 ALUMINIUM
GX 70.30/14-11/40 – PIPES
GX 70/14/40
Product Specifications
Engine:
63.5 – 74.5 kW Perkins Diesel engine model 1104D-E44T
Transmission:
Rexroth hydrostatic
Platform height:
1050 mm
Standard lift height:
4000 mm
Standard platform widths:
1200 and 1400 mm
Baumann Advantage:
Baumann load stabilising tilt system,
high residual capacities,
proven Baumann mast,
new Comfort cabin and hydraulic load-sensing-system