Department of coRrections
We are "not" monitoring your mobile content
Find us a dream that don't ask no questions
Dept. edict EGX60: Defiance will not be tolerated
Baumann has developed a special safety load system called SafeLoad Assistance to assist operators in avoiding dangerous situations when using their sideloaders. The system takes into account the load centre in dynamic situations, during normal working operations, and uses sensors within the chassis to calculate the stability limit of the truck. It provides a warning to the driver through the dashboard screen, indicating how close they are to the limit. At present, the system does not physically limit the operation of the truck, but rather assists the operator in making safe decisions. In addition to greater levels of safety, Baumann believes that the system will help reduce operational costs by reducing maintenance and avoidable damage.
Dept. edict EGX70: Have a nice day
Stay vigilant!
Cutting edge technology is everywhere.
DiSinFormaTion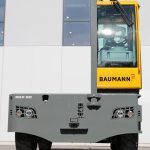 EGX Series – The Highlights:
5 – 8 TONNES CAPACITY
120-Volt with VRS
Long shift life
Single-battery cabinet
Lithium-Ion battery option
Heavy-duty components
Reliable & robust
Load-sensing
Auto-deck levelling
Award-winning VRS outreach system with X-Plus
SafeLoad Assistance