Baumann is an established, trusted name for Side Loader Trucks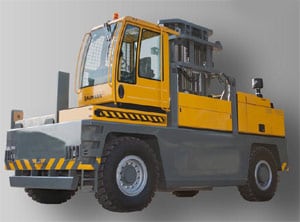 Manufactured to the highest possible standards, and with UK support, there's a Baumann side loader suited to your business.
Agile, user-friendly and with a wide range of specifications available, Baumann trucks comfortably handle loads from 3 – 40 tonnes. Among the options available are diesel and MPG fuelled vehicles. Our full range, complete with specifications and videos are displayed on the main side loader section of our web site.
Baumann Trucks are ideal for many handling tasks, whether you need to move or transport timber, concrete, metals or any other difficult to maneuvre materials.
Side Loader Installation
Each unit is professionally installed on site by our expert team. Spare parts for your truck are available directly from our manufacturing plant. More information about spare parts is available here.
See The Range Of Side Loader Trucks Manufactured By Baumann
Click any of the links below for specifications and product videos.
Side Loader Video
Click play to see a Baumann HX50 handling and transporting timber.
See more videos in our main side loader section.
Spare Parts & Support
There is a network of dealers in the UK. Please contact us for more information. If you require spare parts, these are available directly from the manufacturing plant. Please click here to submit an online enquiry.