[title size="1″ content_align="left" style_type="default" sep_color="" margin_top="" margin_bottom="" class="" id=""]Baumann FOXX – Multidirectional Sideloader[/title]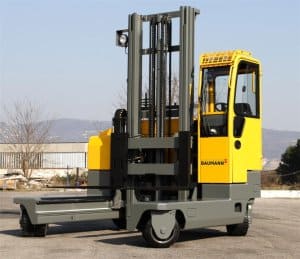 A multi-talent, multi-purpose side loader
3 – 4 tonne load capacity
Space saver
Optional diesel or LPG
The Baumann FOXX multi-directional sideloader is ideal for use in areas with restricted access. 4-wheel configuration offers superior steering control and stability.
The platform tilt function and full multi-directional capability facilitates loading and safer transport, without utilising the forks.
Product Video
Foxx 40/12/54 TR – TIMBER – HOLZ
Product Specifications
Engine:
50 kW- 4 cylinder diesel engine
Transmission:
REXROTH hydrostatic
Platform height:
520 mm
Standard lift height:
4000 mm
Standard platform widths:
1000 mm, 1200 mm and 1400 mm
Baumann Advantage:
4 wheel configuration,
platform tilt,
high residual capacities,
proven Baumann mast,
fingertip hydraulic control.