EHX/EGX 30 – 70 Sideloader[title size="1″ content_align="left" style_type="default" sep_color="" margin_top="" margin_bottom="" class="" id=""]EHX/EGX 30 – 70 Sideloader[/title]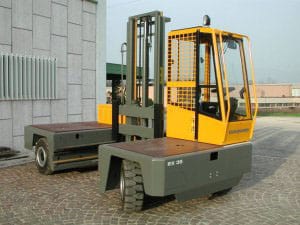 The silent sideloader
3 – 7 tonne load capacity
Low noise, no emissions
Battery powered
Product Description
An environment-friendly option and an alternative to an internal combustion engine sideloader.
These trucks are battery powered and have the added benefit of generating very low levels of noise and no exhaust emissions.
With high residual capacities, their performance is very close to that of an engine-powered sideloader without the same maintenance costs.
Product Videos
EGX 70/14/40 ST -STEEL- STAHL
EHX 50/14/60 TR – TIMBER – HOLZ
Product Specifications
Traction:
2 AC Drive motors with high frequency Mosfet controllers
Standard lift height:
4000 mm
Standard platform widths:
1200 and 1400 mm
Baumann Advantage:
Baumann tilt system,
high residual capacities,
proven Baumann mast,
no emissions and low noise